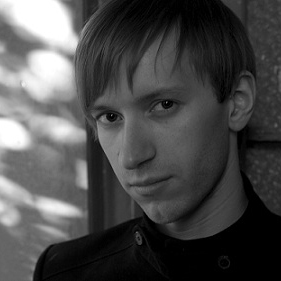 Grzegorz Pieniek (b. 1982) – Polish composer living currently in Vienna, Austria.
In 2003-08 he studied composition with Lidia Zielinska at the Academy of Music in Poznan, Poland, and in 2008-2009 took a Postgraduate Diploma in Composition with Michael Jarrell at the University of Music and Performing Arts in Vienna.

He has received several prizes in national and international composition competitions, including "Crescendo" National Competition for Young Composers (Poland 2001, Grand Prix), Tadeusz Baird National Composition Competition (Poland 2006, honorable mention), Concurso Internacional De Miniaturas Electroacústicas (Spain 2007, finalist), Artur Malawski National Composition Competition (Poland 2008, honorable mention) and Theodor-Körner-Preis (Austria 2011).

His works have been performed at music festivals and concerts in Europe and Asia, e.g. Warsaw Autumn International Festival of Contemporary Music (Poland), Poznan Spring International Festival of Contemporary Music (Poland), Ny Musik Uge (Denmark), Festival Synthese (France), Festival Internacional de Música Electroacústica Punto de Encuentro (Spain), Wiener Frühlingsfestival (Austria), Wien Modern (Austria), Festival Druskomanija (Lithuania), Festival Internazionale di Musica Elettroacustica del Conservatorio S.Cecilia (Italy), Festival Eterotopie (Italy), Musicacoustica Beijing (China).

In 2009 he received the "Young Poland" scholarship of the Ministry of Culture and National Heritage, the scholarship of the Adam Mickiewicz Institute and in 2011 a scholarship of Ernst von Siemens Musikstiftung.